NDA IFAKO-IJAIYE: THE SUCCESS STORY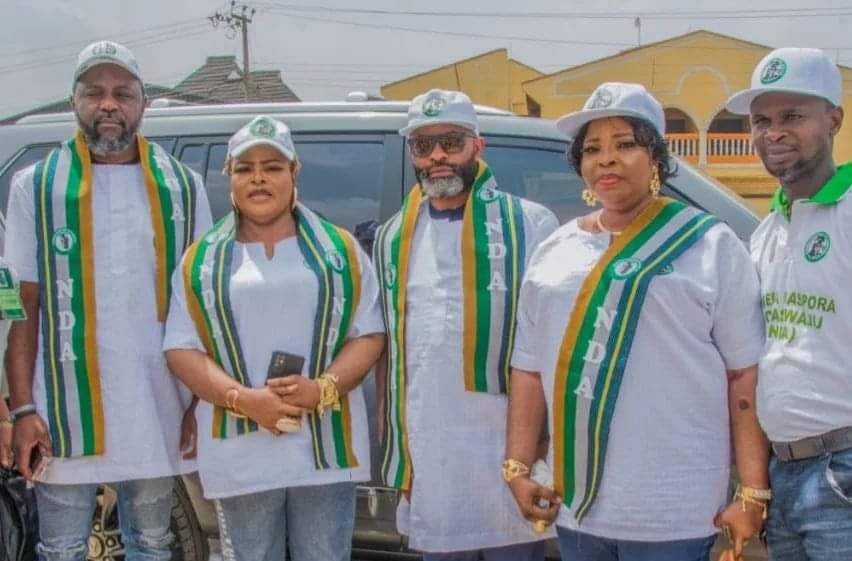 When she was named the Supervisor of the Nigeria Diaspora for Aṣíwájú (NDA) for Ifako-Ijaiye Local Government, little did people know a grassroots mobiliser was saddled with such herculean responsibility. Her case is what is typical of a Yorùbá cliché, 'akẹ́hìndé gb'ẹ̀gbọ́n'. Since her appointment, she has consistently proven to be a leader of immense grandeur.
Chief Mrs. Monsurat Adéyẹmí, the Ìyálọ́jà Ọbawọlẹ̀, Ìfàkọ̀-Ìjàìyẹ is one woman who goes all out to achieve whatever she puts her mind to achieve. And it is not surprising how far she has taken the advocacy of the Nigeria Diaspora for Aṣíwájú (NDA) in so short a time.
It is therefore not flabbergasting when yesterday, Thursday, February 24, all road led to the venue of the official inauguration of the Ìfàkọ̀-Ìjàyè Local Government Chapter of the group.
Yesterday's event witnessed official inauguration of the Chapter with Chief Mrs Monsurat Adéyẹmí who until yesterday was the Supervisor transmuted as the Coordinator for the local government area. The new Coordinator who was presented with a Certificate of Inauguration could not contain her joy as friends and well-wishers graced the august occasion.
Present at the event was the Director General, Nigeria Diaspora for Aṣíwájú (NDA), Dr. Lee Akin Badeji, Royal Fathers from Iju-Shaga, Orile-Agege, Agege, National Chairman, Asiwaju Progressive Forum (APF), Hon. Adeogun, Director General, Occupy Progressives, Comr. Àlàbí Ọpẹ́yẹmí, and the host Director, Princess Mrs Elizabeth Ọbanla among other important dignitaries.
The NDA is in the process of putting a grassroots structure that will culminate in the ultimate national structure for a bottom-top effective advocacy.
NDA ….. Ó ti ṣe é ṣe
For: Director General
Ọmọ́gbọ́láhàn L.A. BABAWALE
National Coordinator
Nigeria Diaspora for Aṣíwájú (NDA)