SUPPORT ADEDAYO BENJAMINS-LANIYI FOR SENATOR FCT ABUJA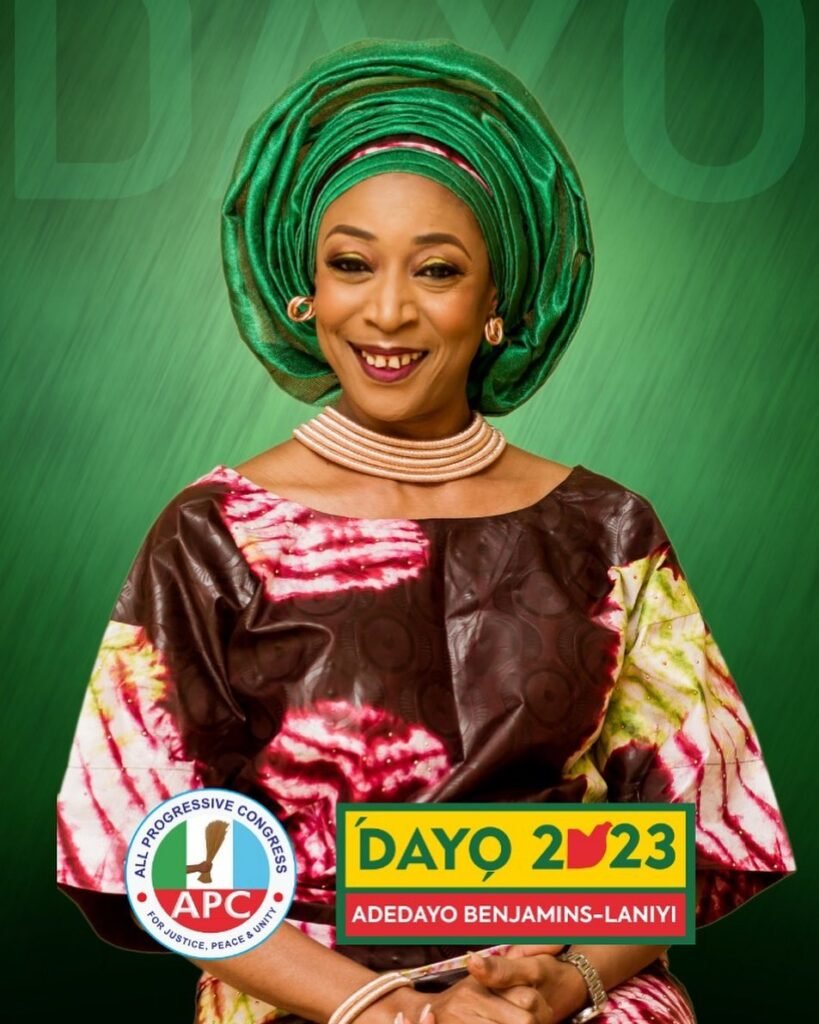 Mrs. Dayo Benjamins-Laniyi, the executive director of Doxa Group- (Doxa Digital Nig., Doxa Conference Management Bureau, Doxa Prints & DBL/Doxa; Nigeria's foremost complete corporate brand that is tested and proven in the market place providing total event design, management and sequencing, conference hall design, configuration and installations of technical and innovative enterprise for prestigious occasions and ceremonials of various government, social, diplomatic and corporate reference; both national and international. She is an ordained deaconess and the wife of Pastor Tunde Benjamins-Laniyi of the Throneroom RCCG Abuja that meets at Transcorp Hilton.
An English [Honors] graduate of the University of Ibadan, Dayo is a public speaking entity and an experiential consultant who has honed a reputation as one of Nigeria's most recognized and sought-after Master of Ceremony (MC), with a stellar background spanning media, entertainment, events design and architecture, hospitality, culture/tourism and CEO branding. DBL celebrity compere has planned and masterfully executed a significant number of high-profile events, both locally and internationally. DBL is Fellow of the Institute of Chartered Management Consultants and Certified Management Consultant. She is so inspired by nature and environment around her that she develops personal relationship with her plants; and they are named deliberately according to their place in her heart.


The African Culture Transformation (ACT) Initiative is an NGO/Cultural rejuvenation engine, which she has initiated to restore, strengthen and redefine African pedigree for women advocacy and entrepreneurship. Dayo is also working on an Agro-Transformation project for African Women. This project is primarily concerned with the integration of African women as global 'Agro-preneurs'.
She is the CEO of the annual DBL Bold & Beautiful that celebrates women in commemoration of the International Women's Day (IWD). The program is an intentional initiative that inspires a vibrant networking and mentorship platform for women across all ages, race, experiences, purpose and pursuits – using the power of personal stories.

DreamGirlsAfrica (DBL-DGA) is the inspired initiative and African Girlchild advocacy of its founder and convener `Dayo Benjamins-Laniyi (DBL). It is dedicated to the global empowerment of the girl child in Africa, through a project-based appraisal of her academic, physical, psychological, and emotional vulnerabilities; using the founder's home nation, Nigeria as it's geopolitical Polaris. Through creativity and innovation, DBL DreamGirlsAfrica provides mentorship, guidance, support, global leadership and entrepreneurship skill sets which radically transform the emotional profile and mindset of the African girlchild and positioning her in strength and happiness for the future she truly deserves.