ÌYÁLỌ́JÀ-GENERAL, NDA VISIT AL-MAKURA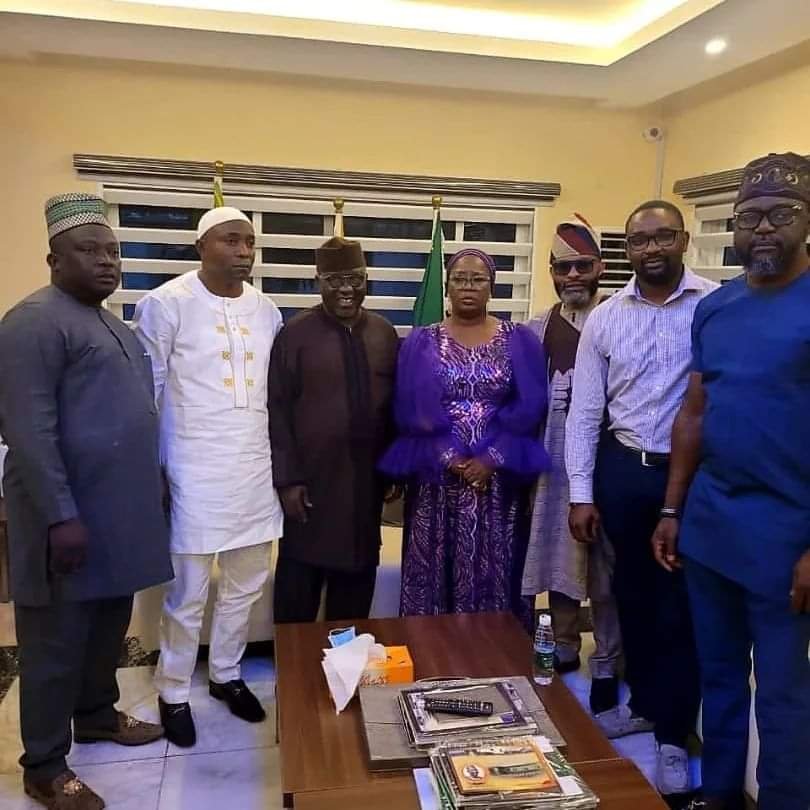 As part of her itinerary, the Ìyálọ́jà-General, Chief Mrs Afọláṣadé Tinubu-Òjó who also doubles as the Life Matron of the Nigeria Diaspora for Aṣíwájú (NDA) yesterday paid a courtesy visit alongside the leadership of the advocacy Group to the former 2-term Governor, Nasarawa State and Senator of Federal Republic, Sen. Umar Tanko Al-Makura in his Jabi, Abuja home.
The team led by its Director General, Dr Lee Akin Badeji had on the entourage the National Coordinator, Ọmọ́gbọ́láhàn BABAWALE, the Deputy National Coordinator, Ms Oyinkansola Okewoye, the FCT Director, Mr Olúṣayọ̀ Adéyẹmí, the Lagos State Director, Princess Mrs Elizabeth Obanla, Director, Contacts and Mobilisation, South West, Mr. Ṣẹ́gun Amos Oyediran, Chief of Staff to the DG, Mr. Udeme Ukpe, Organising Secretary DG's Office, Mr Abíọ́lá Mápàyí, Mr. Ajíbọ́lá Àlàdé, Director Protocol & Logistics, Chief Mrs Abisola, Iyaloja Computer Village, Lagos who also doubles as SSA to the Life Matron among other members.
The Ìyálọ́jà-General, Chief Mrs Tinubu-Òjó was at the residence of the former governor to identity with him on his aspiration to run for the number 1 seat of the country's ruling party, All Progressives Congress (APC). In his remarks, the host, Sen. Al-Makura thanked the visiting team for their support and camaraderie shown towards his aspiration. He would not end his speech without praying for success for the presidential hopeful who also is the principal of the advocacy group, Aṣíwájú Bọ́lá Ahmed Tinubu.
In his closing remarks, the Director General of the Group, Dr. Lee Akin Badeji expressed the Group's appreciation to the host and promised a continuous support for his ambition.
The Life Matron had on Friday night had a close-door meeting with some persons from the presidency. And this engagement is expected to continue throughout her stay in the Federal Capital Territory until her return to Lagos State.
NDA….. Ó ti ṣe é ṣe
For: Director General
Ọmọ́gbọ́láhàn L.A. BABAWALE
National Coordinator
Nigeria Diaspora for Aṣíwájú (NDA)