The Man Tinubu By Akin Lee Badeji DG Nigeria Diaspora for Asiwaju (NDA)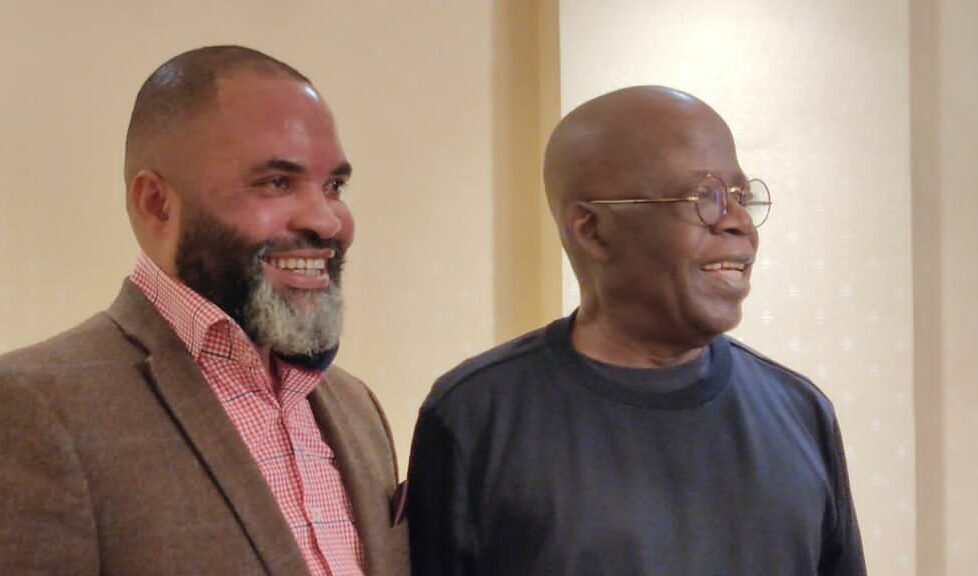 History will declare him an enigma. One whose footprints can only have been ordered by God . From a shaky family background in discomfort having lost loving parents at kindergarten he strove with little to his credit apart from an unshaken resolve to change his destiny . He led his classmates in the school in nigeria , went on to study accounting at Chigaco university and graduated as a first class student .
Was employed by one of the best accounting firms in the world and progressed to doing private works that prospered him. He joined a Reputable Oil Company and later joined politics rising to the status of a Dis Senator of the federal Repunlblic of Nigeria .
He was and I dare say still is a noted activist . A man of fair and just mien . He fought the FG in support of MKO Abiola whose genuine and reputable election victory was truncated by the military juncta of President Ibrahim Babangida . He was a NADECO leader . He escaped arrest and returned to shake the nation when he became the governor of Lagos state .
Inspite of the challenges posed by the then President (PObasanjo) who seized the local government funds of Lagos state , he took the president to court and floored him and despite the refusal by the latter to comply with court orders proceeded to turn lagos into a mega city raising its IGR from millions to billions using strategies that were later copied by all other states .
This indomitable and resilient person made people from all divides not minding tribe and religion . Osinbajo. Fashola . Ben Akabueze, Aregbesola. Ahmed Lawan . Kwankwaso. Ganduje. Saraki. Sanwo Olu Etc to mention but a few .. If you meet the man you will not leave empty of enrichment with useful ideas and development advise. You must grow is the watchword . He is a man of all season and with bridges across the length and breath of nigeria
Such a bridge he provided for PMB in 2015 to give him the coveted headship of the Federal Republic of Nigeria . It was a feat so great that it nullified the pains of 3 earlier defeats at the polls .
During the current election exercise Asiwaju Ahmed fought against his own party stalwarts and cabal , fought the media , destroyed the false claims of drug related crimes and money laundary . They maligned his Muslim Muslim ticket -he braved it all even put to shame the declarations of false prophets at the alter . He fought the formidable PDP and ruled over its self implosion . He made mincemeat of the New Third Force called Obidients and taught them a lesson or two in democratic ideology and the meaning of the winning streak . The government struck with the currency exchange plan and most painful fuel crisis ever . They fell by his side . He had answers to them all . The harder they came, the harder they fell .
There was betrayal from friends and foes . The media , all hail the social media too. They impugned him and accused him of running away from presidential debates . They questioned the source of his wealth and called him unprintable names. Songs and dance steps were created about him mimicking his words or twisting same in insane proportions . He weathered the storms and managed them all. And to the shock of those who maligned him the most , some of whom earlier gave endorsement to the opposition , he arrived at Inec headquarters to be crowned victor of the 25th February presidential elections . The rest is history . The courts have resumed their usual 4 yearly exercise borrowing from Tinubu's emilokan new lexicon . They will have their say but HE Asiwaju will have his way come May 29th 2023 as he change his garb to that of President and C In C of fhe Federal Republic of Nigeria so help him God . The David of the times who brought , not one but ) many Goliaths to the ground
Today is his birthday . We celebrate this icon. The man of not too many words but more action . Happy Birthday to His Excellency Our own BAT.
The future and indeed the turnaround of Nigeria to a greater nation of wealth , endeavor , meritocracy , development. Agro expansion, medical and educational growth and infrastructure availability at all levels . Here is a new nation powered by efficiency , effectiveness and justice where all the nationalities of nigeria matters as equals by right . Truly , the glory of these latter days shall far surpass the best of the former . Nigeria under your watch will take its rightful position in the comity of advanced nations .
May your health and strength avail for you . As your age so shall your strength be . Rest well and return quickly . Nigeria awaits you